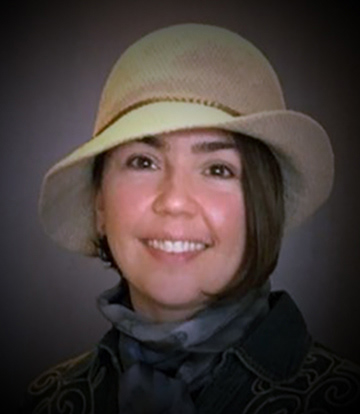 Born in Communist Poland, Joanna Pregon immigrated to the United States when she was 12.  She and her family crossed national, cultural and linguistic borders as they negotiated their way to Germany before settling in Connecticut. 
Pregon attended Pine Manor College in Massachusetts before her curiosity for the West and a growing desire to do creative work brought her to Arizona. While concluding her studies in graphic design, Pregon realized that painting was her true passion and calling. She has been expressing her creativity and unique vision through art ever since.
Pregon's paintings play at the intersections of the natural, physical and dream-state. Female faces and bodies gracefully intertwined with organic shapes like plants, seashells and the moon inhabit much of her work. Although Pregon's canvases are self-interpretive, they express universal concepts such as cycles of change, fertility and growth. Her sensual, curvilinear art invites the viewer to cross the border from the troubled external world to the quieter, hypnotic interiors of the self.
Since picking up a paintbrush in 1999, Pregon has shown with galleries throughout the country and sold her art to collectors throughout the globe.  Her work is part of a permanent collection in Phoenix at the Shemer Arts Center and Museum where she exhibited a one-woman show in 2003. Her paintings have been featured on the cover of several publications.  From 2006 till 2009 she had the pleasure of running her own gallery in the charming mountainside town of Jerome, Arizona. Pregon  also volunteers her time curetting shows and working with art focused nonprofits. Always eager to share her love for creative expression, Pregon has been a guest artist, teaching school age children.  Today she lives and paints in the "Old Town" area of Scottsdale, Arizona.